Trade Services
Austrade
The Australian Trade Commission (Austrade) is the Australian Government agency that helps Australian companies win overseas business for their products and services by reducing the time, cost and risk involved in selecting, entering and developing international markets.
Austrade offers practical advice, market intelligence and ongoing support (including financial to Australian businesses looking to develop international markets. Austrade also provides advice and guidance on overseas investment and joint venture opportunities, and helps put Australian businesses in contact with potential overseas investors.
Austrade services for Bangladeshi Companies
Austrade has over 30,000 Australian companies on its electronic database, which includes product manufacturers, service providers, contractors, consultants, trading companies and agents. They range from the nation's largest mining companies to very small companies in highly specialised industries such as Information Technology.
Austrade can
Assist with sourcing products and services from Australia.
Identification of potential business partners.
provide Bangladeshi companies with up-to-date advice on Australia's supply capabability.
Austrade services for Australian Companies
Austrade's services are tailored to meet the needs of Australian businesses, ranging from first-time exporters to well-established exporters.

Austrade can help you if you are:


seeking general information and advice on exporting
selecting, understanding and entering export markets
expanding your existing export markets.
For further information and assistance please explore the Internet, mailto:http://www.austrade.gov.au or contact EXPORT HOTLINE: 13 28 78
Doing business with Australia
A gateway to information and services about Australia for foreign business people
Trade Brochure - "Australia: Expanding your Export Horizons" (pdf version)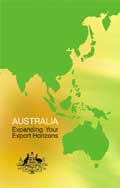 Bangladesh commercial guide 2004-05 ( 328 KB, pdf version)
Constitution of the Australia Bangladesh Chamber of Commerce & Industries (ABCCI)
Fact sheet
Australia's trade relationships with (pdf) and global trade relationships.

ICON: Import conditions search
ICON contains the Australian import conditions for more than 18,000 foreign plant, animal, mineral and human products.